Five Guidelines to Embrace for Doing Life Today ~ Love Generously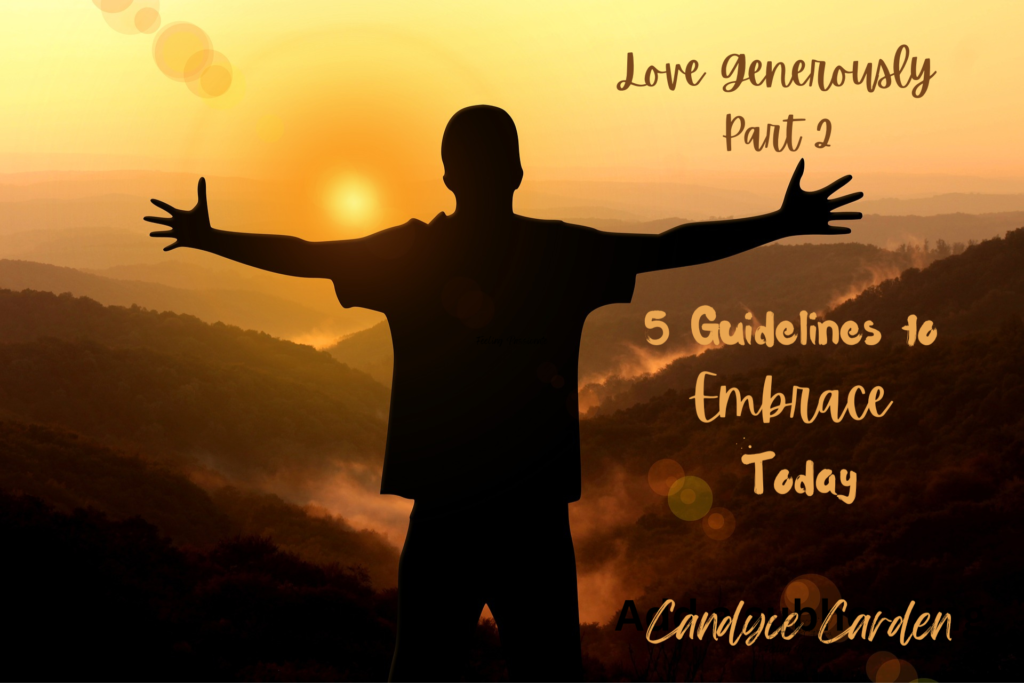 As you go…
	
	Live Simply
	Love Generously
	Speak Truthfully
	Care Deeply	
	Pray Daily

And leave the rest to God.

This is the second part of a series based on this lovely benediction. To read part 1, click here: "Live Simply"
What does loving generously look like?
The first great commandment is to love.
Love the Lord your God with all your heart and with all your soul and with all your mind and with all your strength. The second is this: Love your neighbor as yourself.
(Mark 12:30-31)
And of course, the first listed fruit of the Spirit is love.
The fruit of the spirit is love, joy, peace, forbearance, kindness, goodness, faithfulness, gentleness, and self-control.
(Galatians 5:22-23)
But it is the following verse from 1 John 4 that best paints the picture for me of what "love generously" might look like:
Whoever does not love does not know God, because God is love.
(1 John 4:8)
God and love are one. God doesn't merely love; God is love. The picture I see when I contemplate those three little words is God drenching me in a never-ending rainfall of unconditional love. The way God loves us is the way He wants us to love others.
How do we love like God? It sounds impossible to love like God, but the Bible offers lots of instructions. Consider this one from The Message translation of Ephesians 5:1-2.
Watch what God does, and then you do it, like children who learn proper behavior from their parents. Mostly what God does is love you. Keep company with him and learn a life of love. Observe how Christ loved us. His love was not cautious but extravagant. He didn't love in order to get something from us but to give everything of himself to us. Love like that.
That sounds straightforward and simple enough, doesn't it? But as we learned last week, simple doesn't mean easy. Paul offers a specific and descriptive list of what love is and is not in 1 Corinthians 13. Here's one of them.
Love is kind.
(1 Corinthians 13:4)
If love is kindness in action, then kindness is love in action.
And this is what Jesus says about love in action.
Dear children, let us not love with words or speech but with actions and in truth.
(1 John 3:18)
I want to share two stories that demonstrate loving with action.
Story One
The first story happened in a little country store. I had stopped at the store for a bottle of water. I waited in line to pay behind a young woman holding a box of cereal. She stepped up to the register and quietly asked the clerk, "Is there any way you could sell me two cups of milk?"
"You have kids?" the store owner asked the customer, peering at her over the rim of her eyeglasses.
"Yes," came the reply.
The clerk walked to the dairy case, removed a gallon of milk, and sold it to her for the price of two cups of milk. She loved like Jesus. Quietly, without expecting anything in return, she demonstrated love for a mama who needed milk so her kids would have something to eat for supper.
Story Two
Then there was the man who noticed an elderly neighbor's wobbly walk home as she clutched her plastic bags of groceries in her hands. He wanted to help her so he came up with an idea. He secretly left a collapsible rolling cart on her porch one night. A few days later, joy filled his heart when he saw his neighbor easily managing her shopping bags with his gift.
"Extraordinary love brings extraordinary joy," says M. Scott Peck, author of The Road Less Traveled.
The love we put into action rebounds back to us. It's a paradox, but the more love we give away, the more love we have. Jesus blesses us when we love others.
Witnessing or hearing stories of loving acts also brings us joy and can create a ripple act. Please share a loving act you've seen or performed in the comments below. Or let us know a favorite Bible verse about love.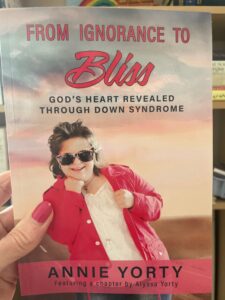 Readers who comment on today's post will be entered in a drawing for this fantastic book I just finished. From Ignorance to Bliss, by Annie Yorty, is the remarkable story of a devoted mother's journey navigating the path from birth to adulthood with her daughter, Alyssa, born with Down Syndrome. You will experience the struggles along with the triumphs, and the doubts along with God's faithfulness. With a gentle hand and a sense of humor, Yorty teaches us much through her tenacity and advocacy for Alyssa.
I will notify the winner via email with a request for your mailing address.
*The email address you share when commenting is never collected or shared.
Love Generously: Five Guidelines to Embrace Today It's a paradox, but the more love we give away, the more love we have. Jesus blesses us when we love others.
Click To Tweet
Thanks for reading! Next time, we'll continue on with Part 3: Speaking Truthfully.
Immersed in His Love,
Candyce