My Word (Phrase) for 2023: But First, God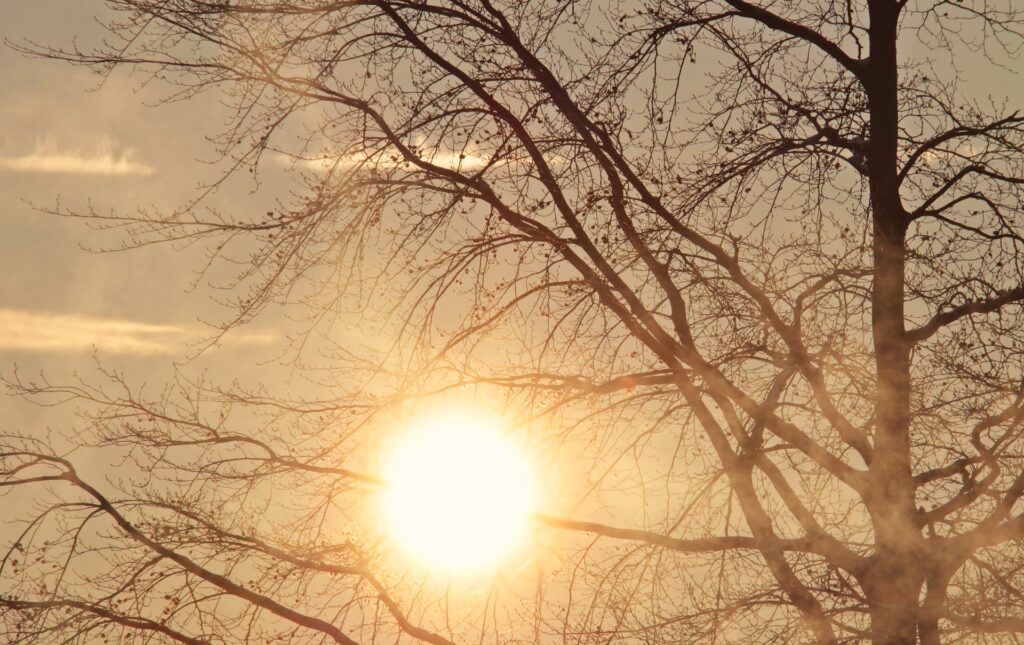 I have daily quiet time with God, reading the Bible, praying, sometimes journaling. This happens in the morning unless an early appointment delays it. But it's not the first thing I do. I love the smell of coffee in the morning, so the first thing I do is get the brew going. And because I love the sound of no one talking to me while I savor that first steaming cup, I drink it before anyone else is up. As I sip the hot stuff, I reflect on the day ahead, mentally organizing it, and maybe read some news. I might check email.
When I'm good and caffeinated, I give God my focus.
One morning, as I pulled my favorite mug from the cabinet, this thought cruised into my head.
What if I awoke with the same fervor to drink from God's cup each morning as I do my coffee cup?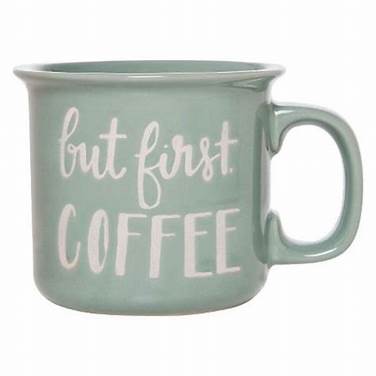 This stopped me in my tracks. It's a hard truth that I don't always turn to God first. When I face a hardship, a stressful situation, a scary health diagnosis for someone I love, my first instinct is to problem-solve. I analyze. I research. I plan. It's only after I've worked myself into a dither that I give God my concerns. I request guidance and the strength to accept His will.
Only then do I find peace.
Do not be anxious about anything, but in every situation, by prayer and petition, with thanksgiving, present your requests to God. And the peace of God, which transcends all understanding, will guard your hearts and your minds in Christ Jesus.

Philippians 4:6-7 NIV
But First, God
Each new year, I ask God to reveal an area in which I need personal growth. Usually it's a single word. This year, I believe God gave me this twist on the phrase featured on my old mug: But First, God.
Could I turn to God first thing every morning before my need for coffee was met? Maybe it would help rehabilitate my natural instinct to figure things out on my own. But doubt crowded my head. And excuses. The devil was at work.
I couldn't back away from this challenge. God was calling me to this.
I can do all this through him who gives me strength.

Philippians 4:13 NIV
It meant a change in routine. Instead of taking care of my own need for caffeine, I had to put God first. The first and greatest commandment is "love the Lord your God with all your heart and with all your soul and with all your mind" (Matthew 22:37 NIV).
To get better at anything, one must practice. Instead of jump-starting my day with coffee, I started in a place of rest, with prayer. I journal any messages and promptings and then read the day's Bible passage in a "Read the Bible in a Year Plan."
Take my yoke upon you and learn from me, for I am gentle and humble in heart, and you will find rest for your souls.

Matthew 11:4 NIV
I started this practice in December. It's been great. It kept my focus on the manger during the merriest and busiest of months. Quiet time became more centered and of better quality when I delayed that first cup of java. In fact, the routine improved the efficiency of my entire day. Instead of lingering with "just one more cup," I head to my desk with my first cup of coffee in hand. It signals my brain it's time to write.
Even better, when I invite God's presence into my day first thing in the morning, I'm more likely to turn to Him throughout the day. It keeps me less focused on my personal needs and more focused on my need for Him.
My word—er phrase—for 2023 is But First, God.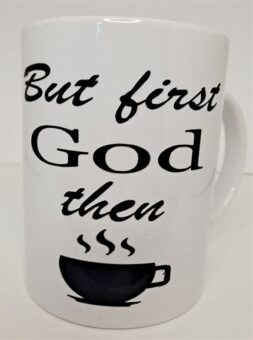 Father God,
Teach me to seek You first this year in all things. I want to grow in my trust and dependance on you so I can enjoy the life of abundance you offer.
Amen
What is God calling you to do in 2023?
What if I awoke with the same fervor to drink from God's cup each morning as I do my coffee cup? #ButFirstGod #devotion
Click To Tweet