Weeding Our Spiritual Garden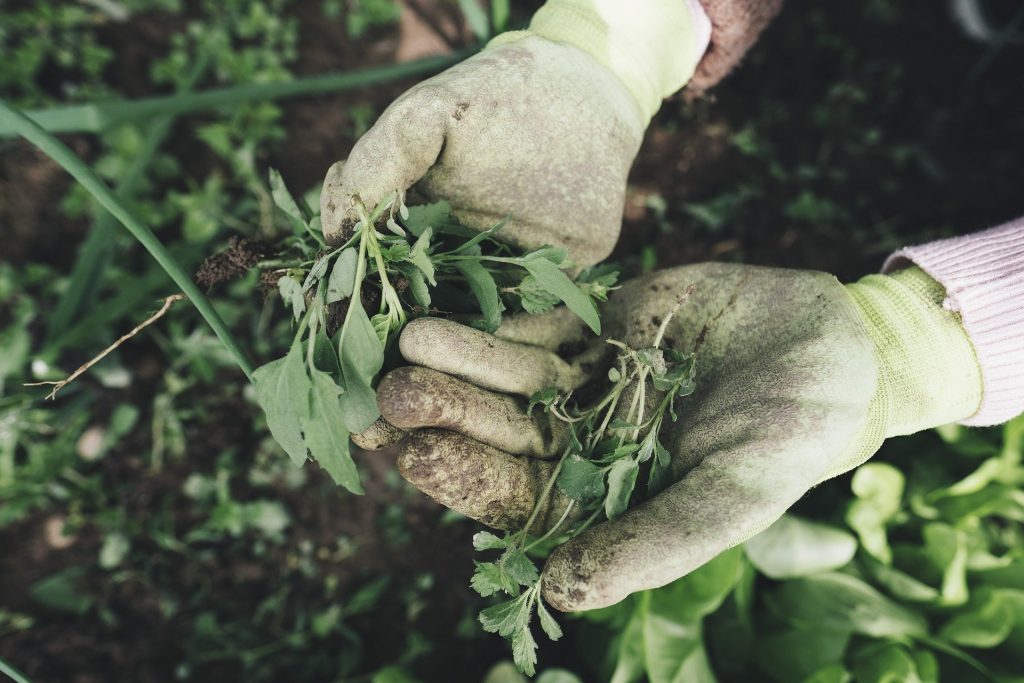 "Whoever conceals their sins does not prosper, but the one who confesses and renounces them finds mercy" (Proverbs 28:13). NIV
My boxwood scrubs were neatly trimmed. The ugly weeds that had sprouted from the soil underneath them gone, the crawling ivy threatening to choke them ripped away. A fresh layer of pine straw covered the ground.
It was early spring, and my yard was taking shape. Satisfied, I stepped back to admire our handiwork.
This year we had taken weed control a step further by lining the area with rolls of Weed Block before adding new soil. The stuff claimed to let air, water, and nutrients get to the roots of the plants while preventing weeds from growing.
I thought I'd found a solution to the unpleasant problem of weeds. But as it turned out, I hadn't eradicated weeds at all. I'd only slowed their growth for a while.
The Weed Block kept the devils under control for a few months, but eventually they pushed through the cracks in the plastic as it weathered and shifted. By the time the following spring rolled around, the weeds were a blight on the landscape once again. And they seemed to be thicker and stronger than ever before.
Weeds are much like the sin in our life. We think we cover them with a blanket prayer that asks God to forgive us. We fail to confess specific sin because we're ashamed, or as in the case of my weeds, because the work is just too hard and unpleasant to face.
When we fail to acknowledge our sins before God, they gradually spread, gaining traction as we ignore them. Christians justify this because, after all, we're not committing "big" sins such as murder, robbery, or physical assault. But those little ones such as impatience, partiality, envy, and judging take over our garden to the point where nothing else grows.
With my weeds, I wanted a One and Done, to wipe them out forever with ground cover. But this didn't get to the root of the problem. It only worked for so long before the weeds were back in full force. I had to pull them out of the ground consistently to get rid of them, knowing full well they would grow back again.
Sin is like that. We can choose to ignore it. Or we can say, "Father, forgive me of my sin," and hope we cover it, but this will never go far in weeding it from our lives. When we refuse to deal with sin, it will take over our garden of life, choking out the fruit of the Spirit.
A single action will not eliminate sin from our life. It requires due diligence.
Three Steps to Weed Out Sin
Acknowledge, Admit, and Confess
Without admitting we have a problem with sin, we can't get help. God showed me I needed to confess my specific sins. But before I could confess, I had to do the hard work of recognizing and admitting them to myself. And I needed to do it consistently.
"If we confess our sins, he is faithful and just and will forgive us our sins and purify us from all unrighteousness" (1 John 1:9). NIV
2. Repent.
After confessing, we must do more than ask God's forgiveness. We do the work of avoiding the sin. Of stopping it before it takes over. Repenting from sin requires us to turn away from what is wrong and to turn to God. It means we resist sin, big and small, and obey God.
"Repent, then, and turn to God, so that your sins may be wiped out, that times of refreshing may come from the Lord" (Acts 3:19). NIV
3. Ask for Help
Just as I sought help weeding my garden, we need God's help with sin. First, we ask Him to reveal our sin to us. We ask Him for the strength to overcome it before it takes root. Then we consistently nourish the Holy Spirit's presence in our lives through daily prayer and Bible reading.
"So, dear brothers and sisters, you have no obligation whatsoever to do what your sinful nature urges you to do. For if you live by its dictates, you will die. But if through the power of the Spirit you put to death the deeds of your sinful nature, you will live" (Romans 8:12-13). NLT
PRAYER:
Thank you Father for revealing areas of sin in my life. Today, I confess the sins of greed and jealousy. Forgive me, and help me rid these weeds from my life. I want to keep the Holy Spirit alive, so keep convicting me and empowering me to turn away from the strongholds of these sins. Amen.
When we refuse to deal with sin, it will take over our garden of life, choking out the fruit of the Spirit.
Click To Tweet
Image by PhotoAC Pixabay