Measuring Our Days: Productivity or Fruitfulness?
When younger, I ranked my days based on productivity. A great vs. good day was determined by the number of tasks I checked off the list, how successful my meetings were, and whether I accomplished most of what I'd planned.
As I transitioned from full-time teaching to part-time teaching to full retirement, I had to find a new way to measure my days. Unanchored without the usual parameters, I sometimes felt irrelevant, unnecessary, and lost. It's a process many of us experience as we enter this new stage of life. Today, I'm going to share a resource that's helping me accept, understand, and dare I say it, savor this new season.
The New Horizons Group at my church, designed for members aged 55 and older, recently offered a study on the book, Aging Faithfully by Alice Fryling. This book is helping me alter my focus on "productivity, busyness, and constant activity."
In the book, Fryling discusses the differences between productivity and fruitfulness:
Fryling refers to the fruit of the Holy Spirit—love, joy, peace, patience, kindness, goodness, faithfulness, gentleness, and self-control—when she goes on to say, "we do not make these things happen in our lives; God does."
To me, this is a lovely invitation to abide in God and spend time harvesting fruit of the Spirit. It's an invitation to linger with my grandchildren rather than speed-walk toward the next task. It's an invitation to learn new meanings of productiveness. The following verse means more now.
Followers of the Lord are blessed with the gift of wisdom as they age and learn to live in God's ways by being righteous and compassionate to others. They are looked upon by young people for their advice and the power of understanding that they receive from the grace of God (Job 32:7).
God's been working on me a long time, after all, and now He's providing the time and capacity to be more fruitful during my slower-paced golden years.
These days I'm learning to measure my days by the insights I glean from listening to my grandkids, the smiles and kindnesses I share with others, and the number of quiet moments I share with God.
I used to say I wanted to age gracefully. Now, I hope to age faithfully because I need God to carry me through.
And I will still be carrying you when you are old. Your hair will turn gray, and I will still carry you. I made you, and I will carry you to safety (Isaiah 46:4).
Find Aging Faithfully at your favorite book retailer. A recommended short read!
Measuring Our Days: Productivity or Fruitfulness #fruitofthespirit #fruitfulness
Click To Tweet
a personal note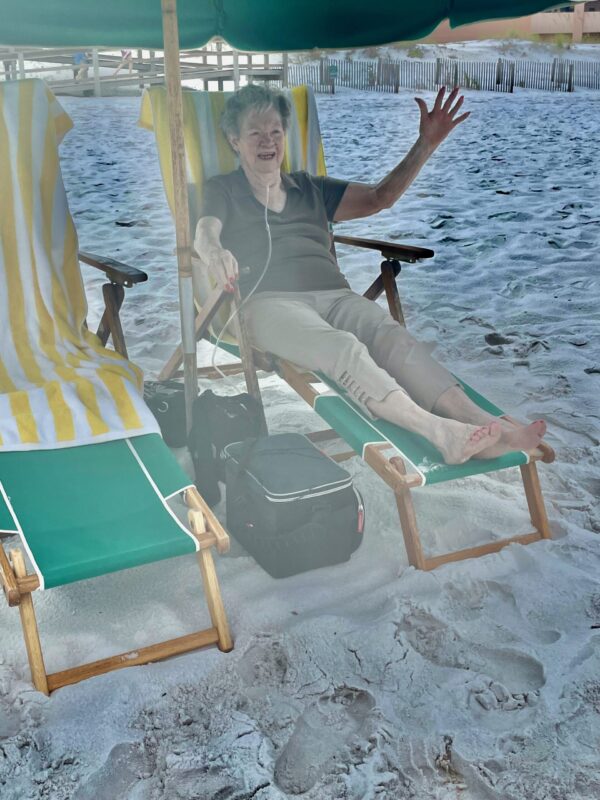 Speaking of aging faithfully, I just returned from the beach with my mother-in-law, soon to be 90-years-old. Besides overflowing with wisdom, she also spilled over with joy and praise as she fulfilled a wish to see the beach one last time. I want to be like her when I'm ninety.