Standing Desk Lends New Meaning to "Thinking On Your Feet"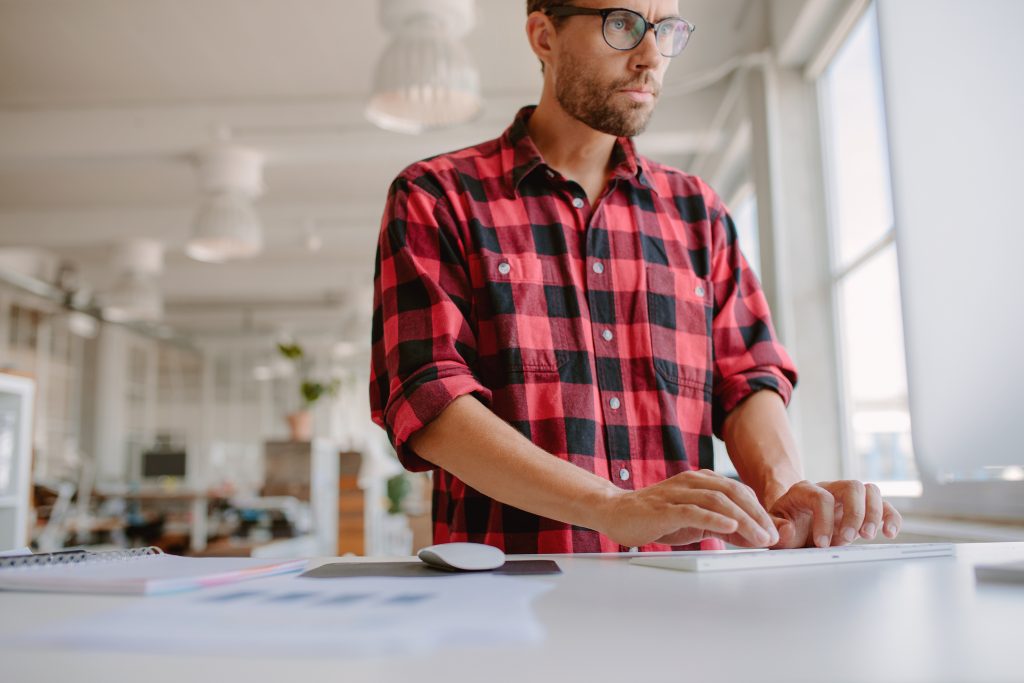 I'm sure you've heard the news by now that reducing the amount of time spent sitting is a move toward better health and longevity. Most Americans spend too much time sitting – in cars, at desks, and in front of entertainment centers with a remote control near at hand.
As a result, we lose agility and strength in the legs and flexibility in the calves, ankles, and outer hips. The abdomen and lower back muscles are also weakened when we moved to seated work because backrests encourage us to neglect important core muscles.
And this applies to even the most physically fit of us.
Our fitness level has little bearing on the detrimental effects of sitting. A maximum three hours of sit time daily is the current recommendation, so it doesn't matter how regimented we are about exercise if we spend the majority of our day in one seat or another. While it's true that physical activity for sixty minutes or more a day moves us to a physically active status, the bottom line is excessive sitting is bad.
Think about this analogy: Smoking is bad for you no matter how much you run. So is a mostly deskbound lifestyle.
What's more, prolonged sitting reportedly decreases circulation to the brain which harms both creativity and mood. Bad news for writers—or any worker for that matter.
Because standing on your feet all day isn't good for us either, it's better to alternate between sitting and standing. ButI had to wonder: could I even coax words to paper while standing?
Before investing any money, I set out to make sure I could "think on my feet" by rigging up my own trial stand-up workstation.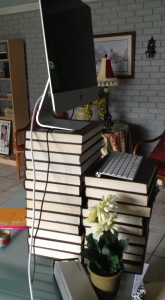 I double-stacked an old set of Encyclopedia Britannica atop my desk and spent the morning revising a 2,500-word article while standing. It took a little while, but I eventually got 'in the flow' and it became easier. My brain forgot all about the body's vertical status and adequately reworked the piece, but man was I tired when finished.
Lesson learned: I can't write standing up in flip-flops. Get me my running shoes.
The experiment convinced me to buy an adjustable workstation for my desk. I could keep moving encyclopedias around – which would improve muscle tone in my arms – but it looked too Jeff Foxworthy and wasn't as ergonomically sound as the one I eventually brought home.
What about you? Have you any experience with stand-up work stations?