"May the favor of the Lord our God rest on us; establish the work of our hands for us—yes, establish the work of our hands" Ps. 90:17.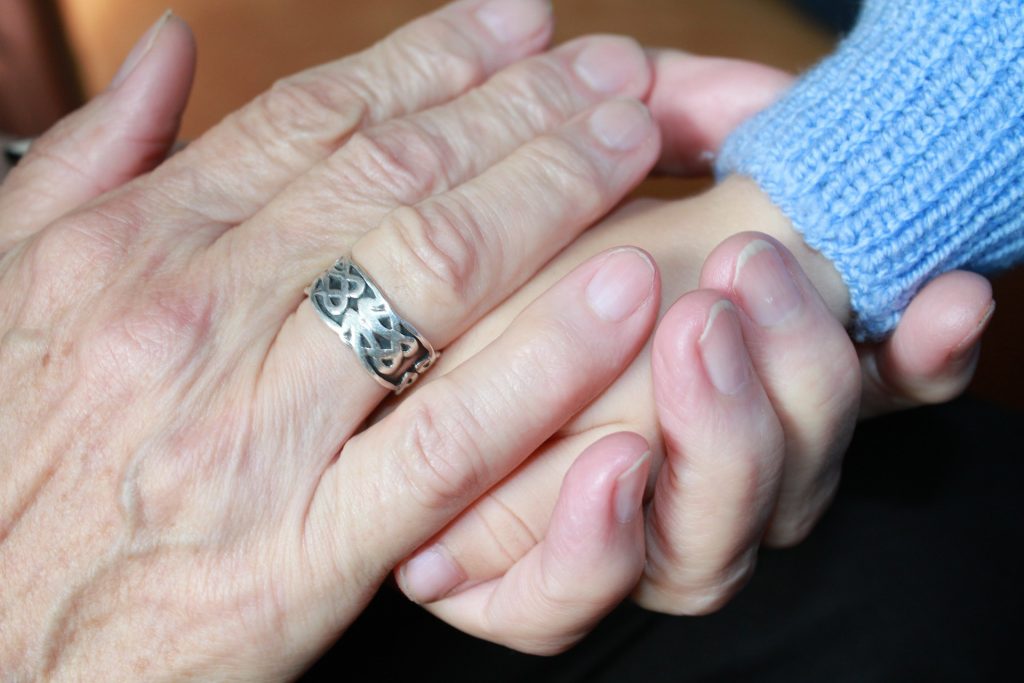 "Mama, you have a young face but your hands are old," piped my observant four-year-old. I glanced at my bony hands guiding the steering wheel as I drove home, knowing what I'd see: Bulging veins and knobby knuckles. She's right, I thought, as I sat on one and dangled the other over the top of the steering wheel to remove it from view.
I've spent a fair amount of my life hating these hands, but seldom give them a second thought these days. I've long come to terms with these appendages and quite appreciate their usefulness. Sometimes I actually love them, especially when they fly across the keyboard as they are now. But when I heard a speaker claim recently that our identity is found in our hands because they represent who we are, I had to wonder what my hate/love relationship with mine said about me.
I didn't find research supporting the speaker but found something much more useful instead. Seems when we create things by hand, our mood is enhanced and we feel happy. We have a primal need to make things, according to Dr. Kelly Lambert, chair of psychology at Randolph-Macon College. What's more, the obscene amount of time we spend with technology, plus the act of buying the stuff we need rather than make any of it, leaves us in a state of disconnect. In the name of progress, we deprive ourselves of an essential creative process that offers pleasure, meaning, and pride.
"Fools fold their hands and ruin themselves" Ecc. 4:5
People who can't use their hands to create because of crippling arthritis or other debilitating handicaps, often become depressed. Research shows that hand activity — from knitting to growing flowers to grating cheese — can beat stress, relieve anxiety, and lower depression rates. Creativity is a powerful tool for altering our inner life because it soothes and satisfies us.
Interestingly, two of my favorite memories about deceased family members are related to their hands. What I remember most about my grandmother is the Saturday she spent helping me sew a simple dress for Home Ec class. Her hands guided the spring green fabric under the jutting needle of her sewing machine, Snipping, threading and knotting, her spotted hands helped me create magic.
And I remember my mother-in-law's patient hands when she taught me how to crochet handbags and house slippers. Maybe there is something to the speaker's hand identity claim after all because patience defined that woman.
I didn't carry on my grandmother's legacy of sewing, but I did crochet for a while. I later took up macramé, bread making, sponge painting, and a host of other crafts.
My creative hand activity these days is mostly related to writing. Sometimes I do a little cooking. And I like to take care of my flowers. I'm not sure I find identity in my hands, but I do find joy when I use them to create.
And though these hands are much worse for wear since my preschooler's observations years ago, I praise God for these hands.
"…I am fearfully and wonderfully made" Psalm 139:14.
Prayer: Thank you God for hands to create. May we recognize and appreciate our hands as we use them to show others your love—by caressing a fevered brow, by baking muffins for a sick neighbor, by weeding a garden, or by adding beauty to the world. Amen.
How do you use your hands to create?