Storms Make Trees Take Deeper Roots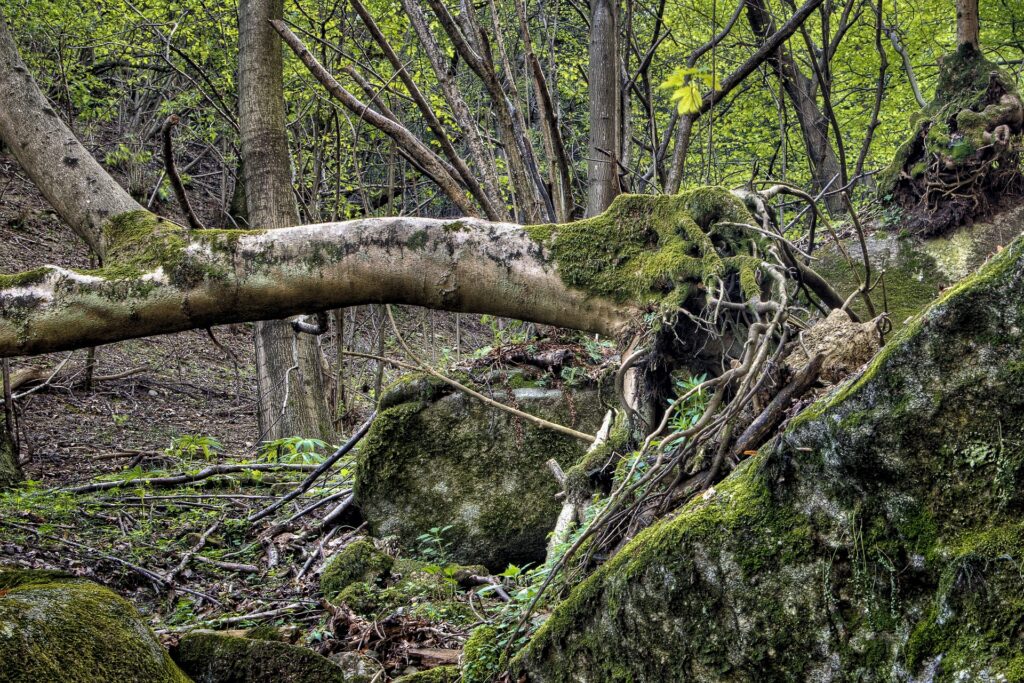 After the storm passed, we walked outside to check for damage. A fifty-foot ash tree lay on the ground, almost completely uprooted. What happened here?
"And I thought storms made trees take deeper roots." I joked, recalling the popular idiom.
Storms can indeed make trees stronger when the right conditions are in place. Healthy soil and consistent wind patterns are necessary.
Most of a tree's roots grow in in the upper 18 – 24" inches of soil where oxygen and water are readily available. Poorly drained and tightly compacted soil leads to surface roots. Additionally, long periods of rain can clog the pores in the soil, blocking adequate oxygen. Heavy rain smothers roots and causes them to rot. Shallow or diseased roots lack stability.
When trees sway in the wind, they develop extra muscle to withstand directional forces. If wind conditions are consistent, trees initiate changes in their development to compensate for this external loading.
Trees are created to withstand typical weather events. But extreme forces of wind or heavy ice and snow can overpower trees, no matter how strong and stable they are.
Some trees grow special tap roots, which extend much deeper into the ground. Trees watered regularly with an irrigation system don't develop tap roots. But trees in the forest grow them to acquire the water needed to survive. Water is absorbed deep into the earth during and after storms.
A Metaphor for Our Lives
Storms Make Trees Take Deeper Roots is often used as a metaphor for our lives. Life's storms can make us stronger, emotionally and spiritually. When we come through them, still standing, we're often better than we were before. Let your storms of life bring you closer to God.
As with trees which grow stronger in a storm, certain conditions must be in place for this to happen for us:
Love
And we know that in all things God works for the good of those who love him, who have been called according to his purpose.  (Romans 8:28 NIV)
God takes all the disappointments and heartache in our life and works them together for our good. Loving God means we follow Him as He has called us to do. God is love.
Trust
Trust in God and flourish as a tree! (Proverbs 11:28b TLB)
Sometimes life topples us. But no matter how big our storm, God will rescue us. He will not leave us plopped on the ground like my felled tree.
Faith
Let your roots grow down into him, and let your lives be built on him. Then your faith will grow strong in the truth you were taught, and you will overflow with thankfulness. (Colossians 2:7 NLT)
Christians grow deep tap roots when we are firmly planted in God. Deep enough to survive dry deserts and dire circumstances.
Hope
Rejoice in our confident hope. Be patient in trouble, and keep on praying. (Romans 12:12 NLT)
We can have confident hope that God will show up in our storms. He uses them to help us grow deeper roots, shape us into a better version of ourself, and make us stronger. Let us be patient and devoted to prayer.
What do you need to trust God with today? What other characteristics have personal storms helped you develop?
Praying you will weather all your storms.
Candyce
Christians grow deep tap roots when we are firmly planted in God. Deep enough to survive dry deserts and dire circumstances. #storms #faith
Click To Tweet