Along with the warmer days of spring come wonderful writing conferences. And like springtime, they inspire, teach, and renew the writer in us. I'm still processing a load of new learning, and it'll be months before I implement much of it. But I did walk away with a handful of conference tips and advice I put to use immediately.
I tested the free online version of this editing tool, and I liked it so much I splurged for the paid version at $20. When you land on the home page, you'll see a short passage of writing, along with the Editor's feedback. To use the tool for your own writing, delete what's there and paste in your own.
I took a test drive with a rough draft of a blog post I was working on. Here are my results for the five areas of writing the Hemingway Editor evaluates:
7 adverbs, meeting the goal of 7 or fewer
Although the goal, based on word count, met the limit, I cut the adverbs. While I don't agree 100% with Steven King's assertion that "the road to hell is paved with adverbs," I do overuse them.
1 use of passive voice, meeting the goal of 2 or fewer
No suggestion with this one other than to "use active voice." Active voice isn't always possible, and 1 was within the limit anyway. I didn't change anything, but I see how useful identifying passive voice will be in longer pieces.
1 phrase has a simpler alternative
The term, utilize, was highlighted for which I substituted use.
3 sentences of 54 are hard to read
I agreed. I'd tried to do too much in each of the three sentences. A college writing teacher often cautioned that "if readers can get lost in a sentence, they will." Because we need to avoid making our audience re-read to grasp our meaning. I rewrote them.
Like a good teacher, the editor won't fix such sentences for you, but rather suggests shortening or splitting them.
1 sentence of 54 is very hard to read
In other words, the sentence was dense, complex, and meandering. And not at all logical. It was a "sentence" created during a free write and definitely needed fixing.
I like The Hemingway Editor for what if offers for its price. I see it being helpful for blog posts written on the fly. It will speed up my own editing process. To be determined is how useful it will be with a lengthy piece such as a book chapter.
If you need a title analyzer, Coschedule rocks. When I tested the original title of last week's blog post, "Reclaim the Joy Jesus Intends for Us," I got this score: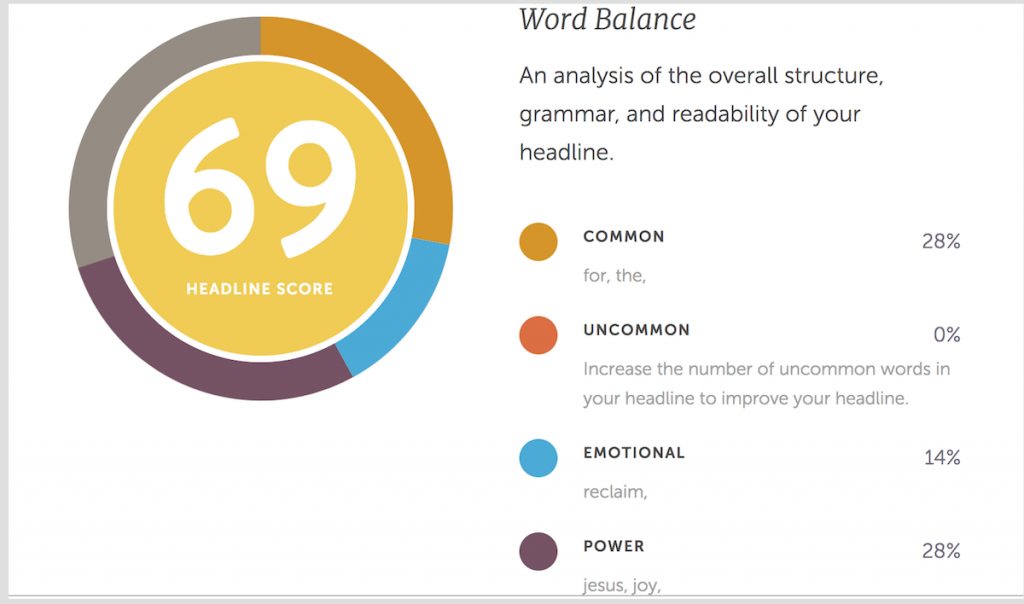 After reading the analysis, along with a couple the site's articles about power words and emotional headlines, I rewrote the title as "How to Reclaim the Joy Jesus Intends for Us."
New Score: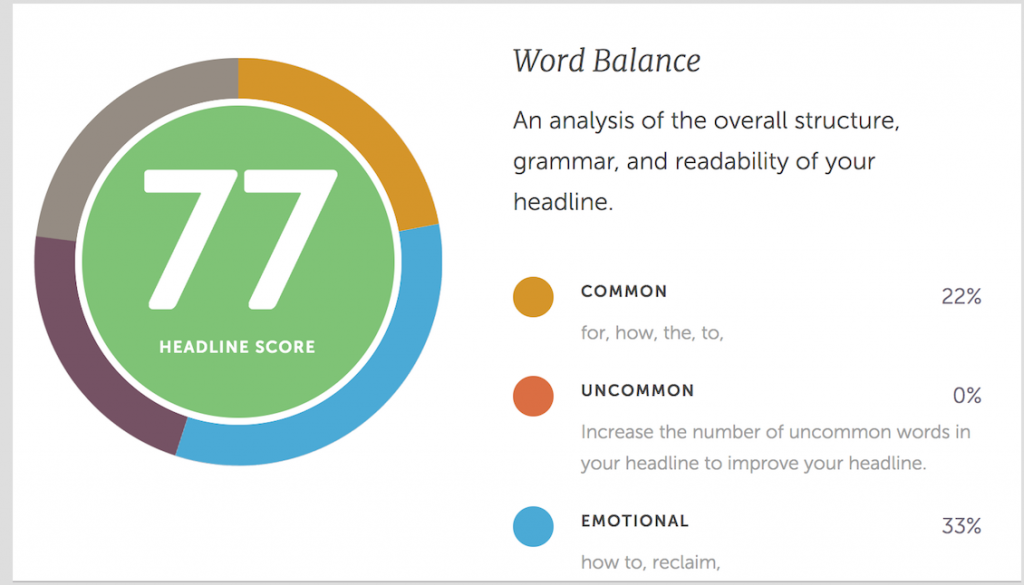 I love this site. Along with providing rationale for scores, the site also offers a list of 180 Power Words for Writing Emotional Headlines. Get this.
#3. A New Paradigm for Viewing Social Media
I used to view social media as a necessary evil to get anywhere with writing. I disliked it because it seemed like self-promotion. But after a few classes on marketing and social media at the Blue Ridge Mountains Christian Writing Conference (BRMCWC), I changed my mindset.
What if we viewed social media as a ministry opportunity? What if it's part of the larger calling God has for us today. Think about it. We can reach far more of the lost in this arena than we can in our books and articles where our audience is also Christian.
This was the message I heard from several conference leaders, but no one is more convincing than Edie Melson, author and social media expert. For Edie, the purpose of social media is to "share truth, bring joy, make connections, and provide a service." She practices this philosophy on her popular blog, The Write Conversation. Edie urges writers to follow a ratio of 5:1. For every five posts that do one of the above, writers get one share to mention our own writing. When we take the time to build relationships and show our audience we care for them, they are more likely to get excited about our good news.
#4. Before settling in to write, read a little something for inspiration.
Another instructor suggested reading passages from favorite books before beginning to write. Reading good writing inspires us and sets the mood for our work. If you're using setting as character, read passages from books where this is done well. This advice is especially helpful on days when you hit the wall and the words won't come. Take a break and read a little.
#5. You can't fix a blank page.
In other words, keep the main thing the main thing. Writers must write. We can network on social media until we burn blisters on our fingers. We can study the craft of writing until we're able to lead a workshop. We can learn all about marketing or self-publishing. But none of it matters if we aren't getting words on the paper.
This reminded me of a favorite quote by journalist Mignon McLaughlin:
"There's only one person who needs a glass of water oftener than a small child tucked in for the night, and that's a writer sitting down to write.
My glass of water was any number of distractions available on the net right at my fingertips. I taped this sentence at the top of my computer screen to remind me what my writing priority must be.
Writing conferences guide our writing in many ways. They help us improve our craft, reveal new writing opportunities, provide motivation, and inspire us. Often, they offer what we need when we most need it.
What new learning have you garnered from writing conferences?
What if we viewed social media as a ministry opportunity? What if it's part of the larger calling God has for us today. Think about it. We can reach far more of the lost in this arena than we can in our books and articles where our…
Click To Tweet