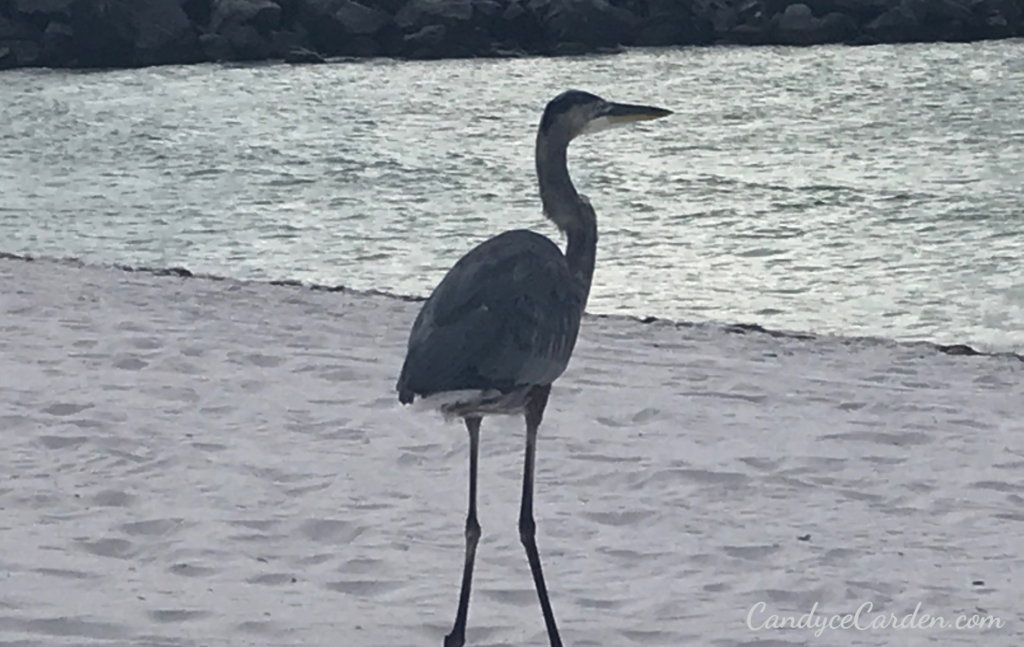 For we are his workmanship, created in Christ Jesus for good works.

Ephesians 2:10 ESV
I didn't see the crane when I first climbed onto the jetty. I stilled, so as not to startle him. The sandhill crane is a strange bird. His legs are a mile long and his neck isn't much shorter. A patch of bald red skin atop his head contrasts sharply with his ashy-gray feathers.
He twists his neck into an S, bends it sideways, downward, and up again, searching for a snack. No insect or lizard here. A comical leap carries him to the sand.
He reminds me of me. Dubbed Granddaddy Longlegs by my brothers when I was thirteen, I felt unusual too. The sooner we learn appearance doesn't define us, the happier we become. All God's creations are unique in some way. When I finally outgrew my awkwardness and deemed myself acceptable, I was content.
For a while.
I soon fell for Satan's ruse and let other worldly concerns define me, such as popularity, perfection, and personal achievement.
I taught Sunday School and served God through various other ministries, but I didn't have a close relationship with Him. I wrote preschool Sunday School curriculum and articles for Christian magazines, but I didn't brim with joy. My life was busy—overwhelming at times—but I wasn't content.
Through a series of difficult seasons, God drew me close. As I grew in identity with Him, I stopped thinking about how others saw me. God's approval became the only one that mattered.
Just like the sandhill crane. The crane doesn't fret over appearance. He doesn't covet the grace of his feathered friends. He accepts his worth and lives out life according to God's plan. He has a higher calling than entertaining me. He mates for life, helps build the nest, incubate the eggs, and feed the chicks.
He's content with his God-given traits: loyalty, devotion, and protectiveness. Comfortable with who he is as he ignores me and sticks to his purpose.